Communications Taxation 2023
Conference Reception and Party

Wind down after a day of workshops, tutorials and/or travel by enjoying some jazz music, food and drinks at the historic Old Preservation Hall

Sponsored by CSI

Wednesday, May 3, 2023
5:15PM - 7:30PM
All conference attendees invited. No cost.
Preservation Hall, 726 St Peter, New Orleans, LA 70116

CSI will be running 3 minivans starting at 4:15 pm from the Hotel to Preservation Hall.  The minivans will run from 4:15 pm to 5:45 pm.

Situated in the heart of the French Quarter on St. Peter Street, the Preservation Hall venue presents intimate, acoustic New Orleans Jazz concerts over 350 nights a year featuring ensembles from a current collective of 50+ local master practitioners. On any given night, audiences bear joyful witness to the evolution of this venerable and living tradition.
About Preservation Hall
The story of Preservation Hall dates back to the 1950s at Associated Artists, a small art gallery at 726 St. Peter Street in New Orleans' French Quarter. Upon opening the gallery the proprietor Larry Borenstein found that it curtailed his ability to attend the few remaining local jazz concerts, and began inviting these musicians to perform "rehearsal sessions" in the gallery itself. These sessions featured living legends of New Orleans Jazz – George Lewis, Punch Miller, Sweet Emma Barrett, Billie and De De Pierce, The Humphrey Brothers, and dozens more.

During this period, traditional jazz had taken a backseat in popularity to rock n' roll and bebop, leaving many of these players to work odd jobs. Although concerted efforts by aficionados such as William "Bill" Russell succeeded in recording and documenting this fading artform during the "New Orleans Jazz Revival" of the 1940s, venues that offered live New Orleans jazz were few and far between. Before long, Borenstein's sessions took on a life of their own; enthusiasts of the music gravitated toward the gallery, including a young couple from Pennsylvania named Allan and Sandra Jaffe.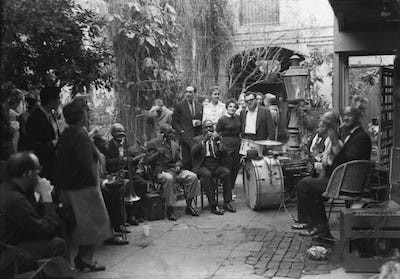 The Jaffes arrived in New Orleans in 1960, on an extended honeymoon from Mexico City. During their visit, they conversed with a few jazz musicians in Jackson Square who were on their way to "Mr. Larry's Gallery." As avid fans of New Orleans jazz, the honeymooners followed the musicians and were introduced to Borenstein along with a number of living jazz greats that had gathered that evening for a jam session. Needless to say, they were enraptured by what they saw and heard. The music was pure and unaffected by the swaying of popular music. Most of these musicians were elderly, many of whom were contemporaries of Buddy Bolden and other early jazz practitioners. The Jaffes knew they happened upon something special and soon after moved to New Orleans permanently.
The jam sessions at 726 St. Peter became much more frequent, so much that Borenstein moved his gallery to the building next door. Performances were held nightly for donations and were organized by a short-lived not-for-profit organization, The New Orleans Society for The Preservation of Traditional Jazz. Shortly after the Jaffes returned to New Orleans, Borenstein passed the nightly operations of the hall to Allan Jaffe on a profit-or-loss basis, and Preservation Hall was born.
Operating as a family business, Preservation Hall supported the unique culture of traditional jazz in New Orleans, which developed in the local melting pot of African, Caribbean, and European musical traditions at the turn of the 20th Century. Preservation Hall was a rare space in the South where racially-integrated bands and audiences shared music together during the Jim Crow era. At the center of that family business, the Jaffe's became involved in the southern Civil Rights Movement (and were even persecuted) as heads of an integrated venue in a time of cruelly-policed racial segregation.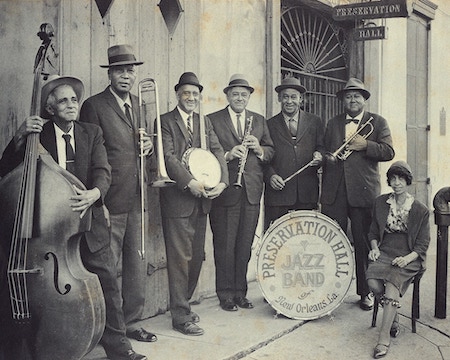 The nightly jazz concerts at Preservation Hall gathered a significant amount of press interest from its inception, first from local media, then a year later from national outlets, such as The New York Times and the Brinkley News Hour. As time went on, Allan believed the success of both the Hall and its mission of preservation would require these bands to tour, and in 1963, he organized the newly minted Preservation Hall Jazz Band for a string of performances in the Midwest.
True to Jaffe's estimation, the tour was a success and interest in the band and the rediscovery of New Orleans music stretched as far as Japan. The following decades found the band traveling and featured on a wide array of performances, from The Filmore West with the Grateful Dead to the palace of the King of Thailand (who sat in on alto sax). Following Allan Jaffe's untimely passing in 1987, Preservation Hall and The Preservation Hall Jazz Band now operate under the leadership of the Jaffe's second son, Benjamin.