Communications Taxation 2023
May 3-5, 2023

New Orleans Marriott
555 Canal Street, New Orleans, LA, 70130-2349

Note: this is a different (and nicer) hotel than the 2022 venue
Note 2: Hotel registration is open

TeleStrategies is pleased to host Communications Taxation 2023 at the New Orleans Marriott, 555 Canal Street, New Orleans in the historic French Quarter - steps away from the Riverfront, world-class restaurants and other attractions that make the "Big Easy" famous.

Direct flights to over 65 cities makes New Orleans easy and inexpensive to get to. Plus the hotel is only a short ride to the airport.
JazzFest: Consider staying the weekend because Tax is taking place during the peak of the world-famous New Orleans Jazz Fest. We reserved a limited number of rooms through the festival's closing weekend at the discount rate - grab them while there is availability.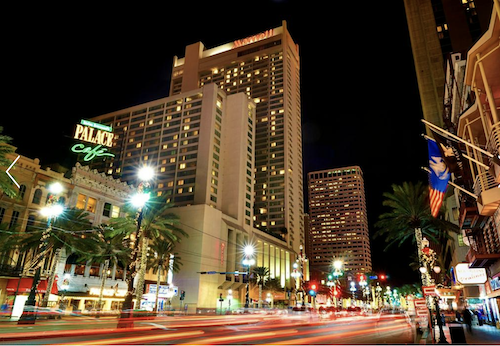 Hotel Information And Registration Link

New Orleans Marriott
555 Canal Street
New Orleans, LA, 70130-2349
Front Desk: (504) 581-1000
Hotel discounted room rate: USD 225.00 per night
Hotel registration link: https://book.passkey.com/e/50373507
Attractions Distances

Canal Street - 0.1 km / 0.1 mi 
Decatur Street - 0.1 km / 0.1 mi 
Audubon Insectarium - 0.2 km / 0.1 mi 
Royal Street - 0.2 km / 0.1 mi 
The Shops at Canal Place - 0.3 km / 0.2 mi 
Bourbon Street - 0.3 km / 0.2 mi 
Harrah's New Orleans Casino - 0.3 km / 0.2 mi 
Cigar Factory New Orleans and Museum - 0.4 km / 0.3 mi 
New Orleans Pharmacy Museum - 0.5 km / 0.3 mi 
Jean Lafitte National Historical Park and Preserve Visitor Center - 0.5 km / 0.3 mi 
Audubon Aquarium of the Americas - 0.5 km / 0.3 mi 
New Orleans Musical Legends Park - 0.5 km / 0.3 mi 
Saenger Theatre - 0.6 km / 0.4 mi 
Historic New Orleans Collection - 0.6 km / 0.4 mi 
Lafayette Square - 0.7 km / 0.4 mi 
MAP